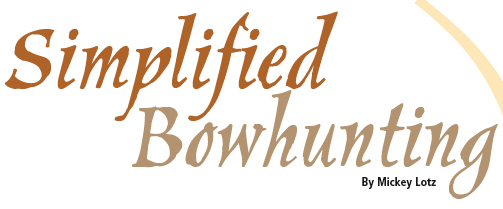 ---
As I crested the hill and headed down the path to the stand that I had planned to hunt that evening, I ran smack into a nice 8- point whitetail standing with a couple of does directly under the stand. Of course they busted out of there in a hurry albeit in opposite directions. This would work to my favor later, but I had no way of knowing this at the time.
Figuring it would not be productive hunting there anymore, I decided to side-hill a couple hundred yards over to my wife's stand on the southern edge of our property. Dianne would not get home from work in time to hunt tonight so her stand was available. As I approached her stand the same 8-point I had previously bumped into was standing there. He had obviously heard me coming long before I was able to see him and stood there on full alert. Once again, he tore out of there and angled down the hill toward the creek at the bottom. Since it was getting too late to go anywhere else, I figured why not just climb into the stand anyway, and enjoy what was left of the evening.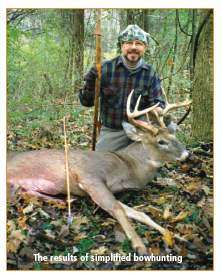 It was a pleasant evening with the temperature quite comfortable. There was plenty of bird and squirrel activity to keep me entertained as I relaxed and soaked in nature's show. What made it even more relaxing was the fact that I was hunting as simply as I could. It's a philosophy I adopted a few years back. You see, my life is pretty hectic, as I'm sure yours is. My job is in sales which involves sales goals, daily travel, schedules
and meetings with clients. As a freelance writer, I am always dealing with magazine deadlines. As a hobbyist bowyer, it seems as if there is never enough time to work on bows. Being a husband, father and grandfather comes with its own responsibilities and keeping up on the household repairs and yard work seems like a never-ending job in itself. So when it comes to bowhunting, something I do for relaxation, I try to keep it as simple as I can. For me this involves what I call simplified, or ultralight bowhunting.
The bow I carry is usually a bend- or semi-bend-through-the-handle selfbow. Ultimately efficient, it's lightweight, maneuverable, and easy to carry. Attached to the upper limb is a small triangular leather single arrow quiver. Naturally I can only carry one arrow. This is usually a turkey featherfletched river cane shaft that has a self nock and is tipped with a homemade trade point. I also carry a small homemade knife worn either on my belt or in a sheath around my neck. If I plan on sitting in a ground blind or brush pile for the hunt, I will carry a small lightweight three-cornered stool. Other than a small headlamp stuffed in my pocket for evening hunts, that's it, no calls, no rattling horns or scent bottles. There are no pee bottles, no canteen, no field dressing kit or wind puff bottles or any of the other hundreds of items the deer hunting industry would have you believe that without which, you can't successfully hunt.
I normally wear a soft warm plaid flannel shirt, a cloth head net, brown denim flannel lined jeans, rubber knee high boots, and brown jersey gloves to mask my hand movements. Thirty years of bowhunting experience has taught me that's all that is really needed for the majority of my bowhunting, which consists mainly of harassing the local whitetail and turkey populations.
You see, it only makes sense that if you are going to bowhunt you are going to need a bow. If you plan on shooting anything you've got to have an arrow. And, if you do shoot something with that bow and arrow, you are going to need a knife to dress it out. In my mind, that's all you really need. About as simple as it gets, isn't it?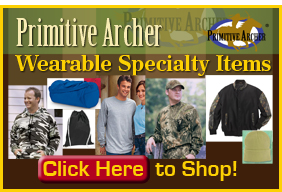 I know what you're saying; "Carry only one arrow? Is he nuts? What if…?" Well, there are a lot of what-ifs in the hunting woods, and you can't possibly be prepared for everything. But past experience has taught me that most likely I'm not going to get any shots on any given trip afield. We tend to do a whole lot more hunting than we do shooting, so why carry the extra weight of five or six arrows every trip? Experience has also taught me that when hunting whitetails or turkeys, if things do happen to go right, one shot is all you're likely to get. Most times, if fate smiles favorably upon you, you get one shot before the critters run or fly off.
I've also learned that with the proper experience and woodsmanship you only need one shot. Since going to my simplified set up for my hunting, prior to this evening I had taken four shots and harvested three deer and one turkey, with the farthest shot being 11 yards. Hunting with a single arrow is no different from hunting with a flintlock muzzleloader or a Thompson Contender pistol. You get one shot, so you'd better be confidant you can make a clean kill before dropping the hammer… or loosing the string. You think hard and long about the shot and make sure conditions are optimized for making that shot.
I also have the philosophy that if I would miss, the animal deserves to live to be hunted another day. To me it's the ultimate example of fair chase. As I sat there relaxed, soaking in the ambiance of the woods, I was suddenly snapped back to reality by hearing a twig snap above me and back to the right. I slowly turned my head and spotted the same 8-point sneaking across the hill above. This was unbelievable since I had already spooked him twice this evening, yet here he was coming through again. Thanks goodness the rut was in full swing, and he had other things on his mind, namely the two does that were on the other side of me. They had run in the opposite direction from the buck when I first spooked them.
The buck angled down the hill and crossed the logging path directly to my right. It looked like he was headed for a shallow spot to cross the ravine, which would bring him right in front of me. As he passed by at 7 yards, I drew my single arrow and concentrated on a patch of hair right behind his elbow. In an instant I watched the turkey feathered shaft bury in that spot and knew my simplified bowhunting setup had served me well once more.
Now, you may not feel comfortable heading into the woods as sparsely equipped as I do, but for me simplified bowhunting is simply the only way to go.
PRIMITIVE ARCHER VOL. 20 ISS. 4
Whitetails on the Wind II By MIKE "HAWK" HUSTON
Flint: How and Where to Find It By BILLY BERGER